Although the terms proofreading and editing are often used interchangeably, they do not refer to the same process. Editing refers to the ongoing review and alteration of a document, article, dissertation or thesis for sense, clarity and overall flow.
It may involve significant restructuring of sentences or paragraphs. Proofreading, on the other hand, takes place after editing and involves a detailed critical appraisal of the document to pick up on errors in grammar, punctuation, syntax and spelling. It is usually completed by 'a fresh pair of eyes' – someone who is not the writer.
Professional Proofreading and Editing Services
An experienced proofreader will read a document, paying attention to every detail to ensure that all grammatical errors have been corrected and syntactical improvements have been made. Proofreading involves far more than a final skim of a document prior to publication. It is an essential part of the publication/submission process.
Written English is very different to spoken English. As a student, you will be expected to submit essays in formal, written English. The difference between the two is distinct. While native speakers find the differences difficult, non-native speakers tend to find them extremely complex. If English is not your first language, you may be struggling with spoken dialects and idioms. Therefore, it is a sensible idea to utilise a professional proofreading service to help you avoid mistakes when writing English texts.
At Proofers, our team of dedicated editors is passionate about the English language. We want your essays to demonstrate your ideas and reflect your skills. We will make sure your writing is precise, clear and concise. Our proofreading services cater for all levels of study and all fields of education. We will help you to produce an unblemished, perfect document that is guaranteed to get you the grade you are capable of and deserve.
Our Services
At Proofers, we offer a range of editing and proofreading services. Our experienced proofreading team is made up of native speakers who will proofread your document to the highest possible standard. We concentrate on spelling, grammar, punctuation and syntax, ensuring that the tone and the voice in your document are correct. We can also edit your work if additional input is needed to polish your ideas and presentation.
Our proofreading and editing services are carried out using Track Changes in Microsoft Word ®. This system of correction allows you final say about which amendments you accept and which you reject.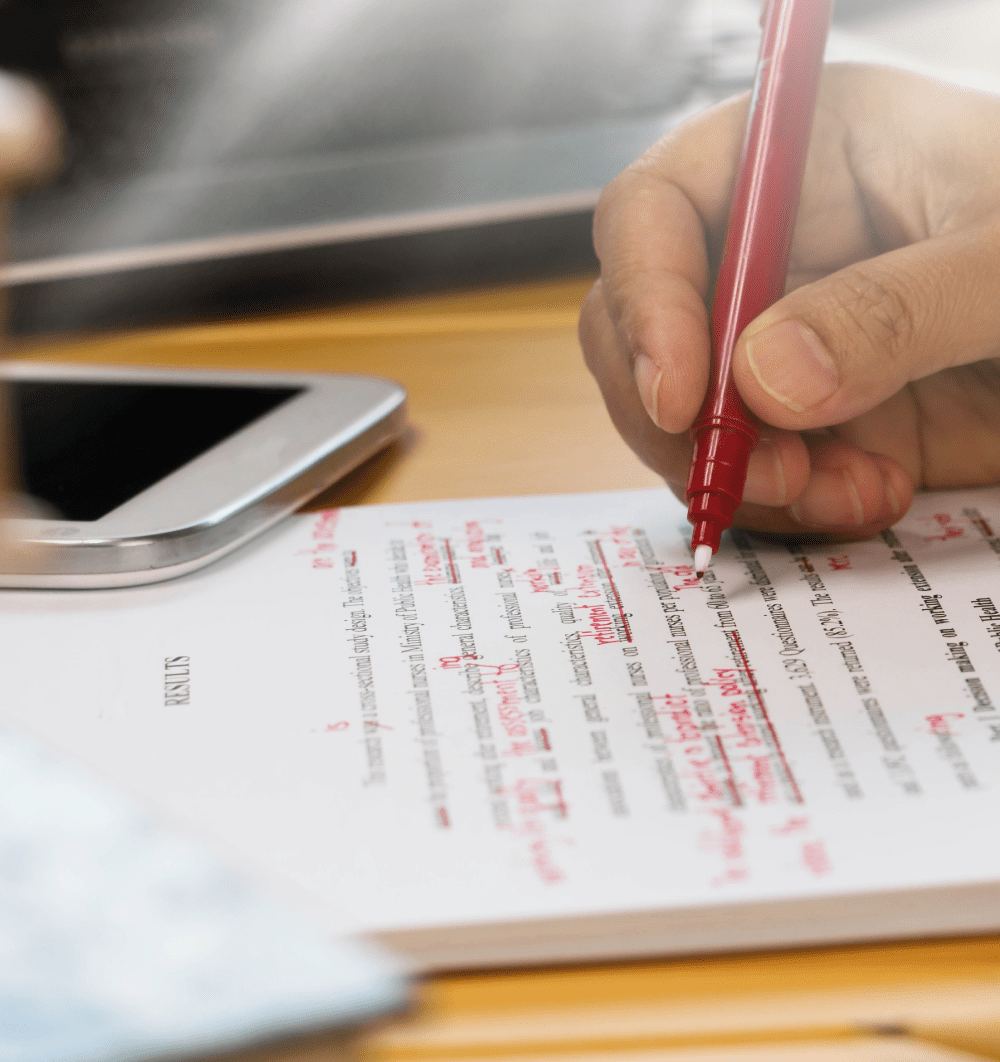 We're rated excellent

"Top quality service, which I will use again in the future. The document was reviewed and adjusted with speed. I would definitely recommend to others."

University of Leeds – Terry Smith

" I was impressed with the service offered by this company overall and thank them for their efforts."

University of Liverpool – Andy Brooks

"Very good, speedy and nice service. I have much more confidence on my paper now. I will definitely use their service again."

University of London – Chris P

"Excellent service with very quick delivery. My document was quickly reviewed and corrected. Will definately use again."

University of Birmingham – Jade Patterson

"Got awarded a first class for my thesis that you proofread. Excellent job, will pass on your details to all my mates!"

Lancaster University – Mr S Anderson

"Excellent service with prompt and accurate work returned. Will definitely recommend to friends and use again."

Lizzy (Private)

"My Phd documents was greatly improved thanks to these guys. They gave a fantastic service and were easy to use. Would recommend to anyone who needs their documents checked."

Lancaster University – Kevin T

"Excellent work! They were a great help."

University of Derby – Richard M

"Very happy with the service 10/10 Quick turnaround and very friendly team! Thanks for everything been great help!! Will definitely use again!"

UCLAN (University of Central Lancashire) – R Bapu

"Many thanks for a fast, accurate service. Made all the difference."

University of Southampton – Ross G

"Good service, fast communication, and very helpful My work has improved a lot with proofreading service."

University of Leicester – K.Wongpayak

"Communication was excellent. The level of proofreading was exceptional. I want to thank ALL the staff at Proofers for an excellent Proofreading Service! Would definately recommend!"

University of Westminster – Tom Geevers